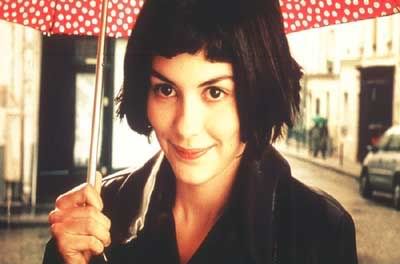 I watched Amelie last night....had to share! What a grand movie, I didn't want it to end~
Impish Amelie (Audrey Tautou) lives alone and works in a cafe. When she finds a trove of toys hidden for 40 years behind a baseboard in her apartment, she's inspired to repatriate the items, an impulse of generousity that sparks more benevolent acts. A celebration of life, Amelie reminds us, of the small wonders that abound around us...if only we paused to look.
It is a french film, with subtitles. I also loved the music by Guy Klucevsek, it was perfect for this movie! Here is a link to the trailer, photos & bio of Audrey....now go get the movie!!
http://www.rottentomatoes.com/m/amelie/photos.php